Their golden smile spreads along roadside verges and paths, they glow in untended gardens, they spring forth in clusters when the warm sun brings them out of hibernation. Unchallenged stalks stay close to the ground but the powerful green stems can push the flowers up to dance above long grass.
This spring I need to collect some Buttercups. I scan fields and hedgerows in anticipation of spotting an otherwise unnoticed bloom.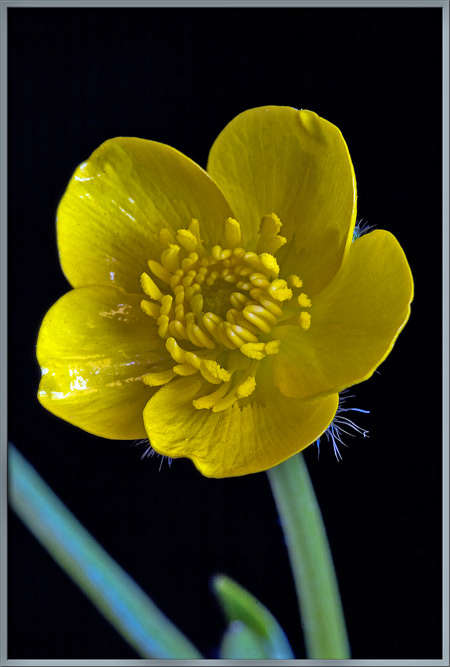 Today the disabled parking space at Ham Wall RSPB bird reserve awaits my friend and I, but b
irds are forgotten when I see Buttercups on paths as we arrive. I stoop with my plastic bag and scissors and inspect this miracle which I picked as
a child to hold under a friends chin, a yellow shadow confirmed a love of butter!
.
Each of the five wax polished petals shine readily when turned towards the sun. The open petals display the myriad of tiny curved stamens as hairs shimmer from the stem.
As I pick, damselflies flitter around with invisible wings, they settle on leaves until another disturbs their sunbathing and their blue stick body floats away. I drop my buttercup bag and walking stick and click and click until I am sure I have an in focus picture of these wonders of nature that I have discovered through buttercup hunting.
I shout and point when a warden alerts us to a Bittern in flight, Marsh harriers and a Hobby. But my hesitant steps on uneven green paths have delivered the winning treasures.
I invite you to step outside, find and stare closely at these golden beauties before they drop their petals and hide for another year.